Bells Variation
Réalisé par la très talentueuse Mila Gantelmi d'Ille, soutenue par une équipe de rêve que nous remercions encore et encore
News
BELLS VARIATIONS | SORTIE LE 21 JANVIER 2022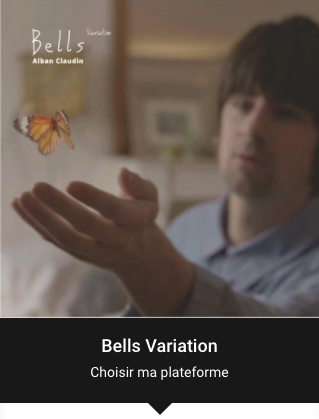 SUNKEN DREAMS |  SORTIE LE 3 DÉCEMBRE 2021
Une composition d'Alban Claudin, enregistrée en duo avec la violoniste Esther Abrami.
LE CLAIR DE LUNE |  SORTIE LE 15 OCTOBRE 2021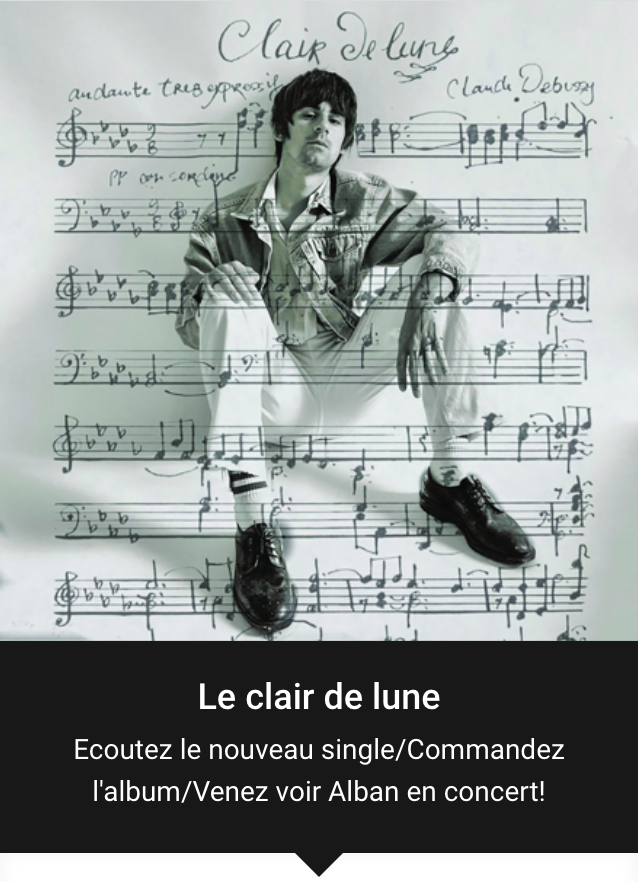 IT'S A LONG WAY TO HAPPINESS |  SORTIE LE 26 MARS 2021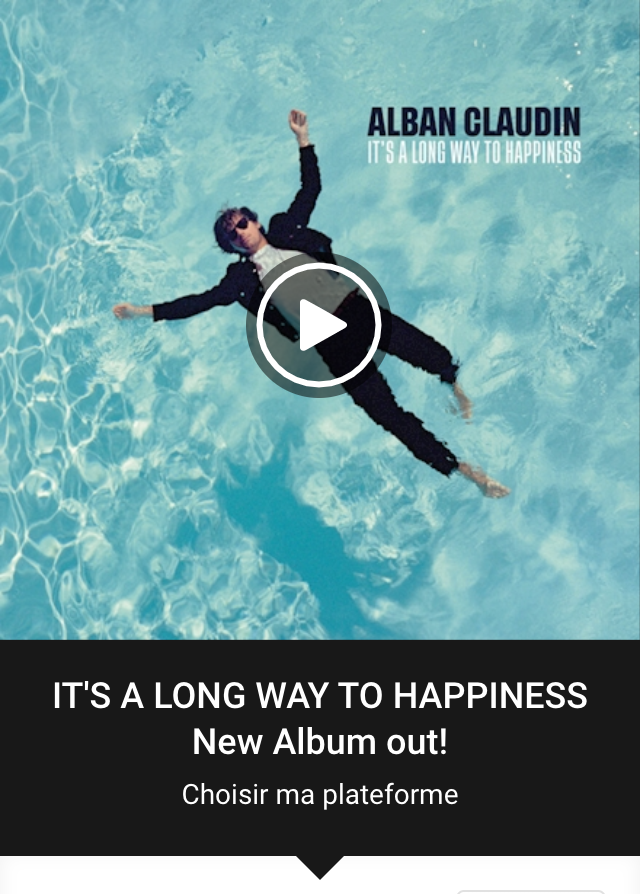 NEW WEBSITE : ALBANCLAUDIN.COM
ONE THOUSAND TREES |  SORTIE LE 19 MARS 2021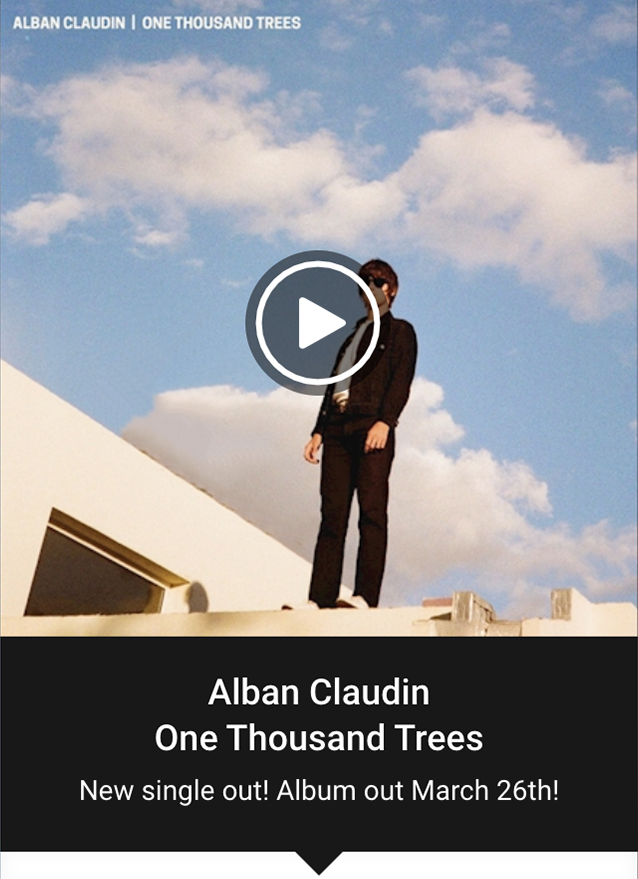 IT'S A LONG WAY TO HAPPINESS | SORTIE LE 8 JANVIER 2021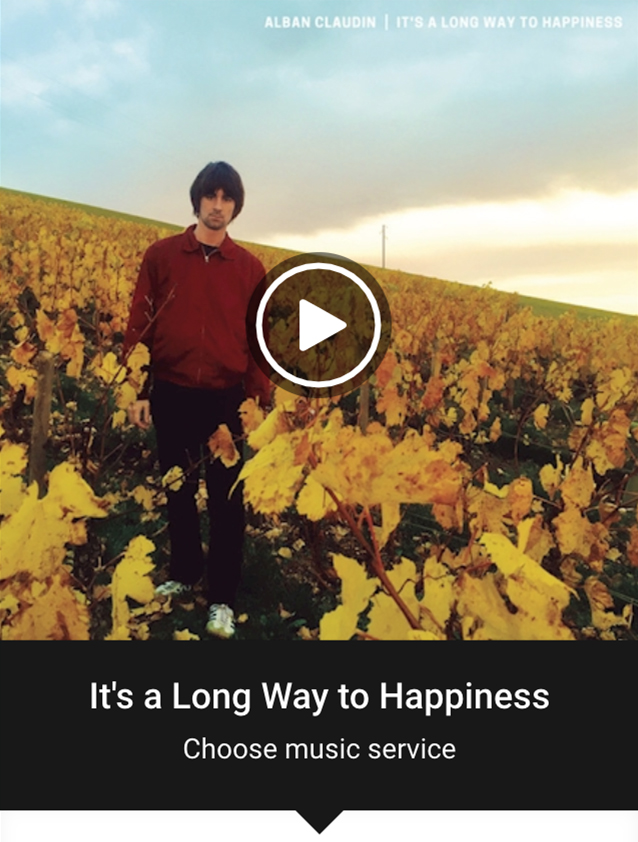 DANDELION | SORTIE LE 23 OCTOBRE 2020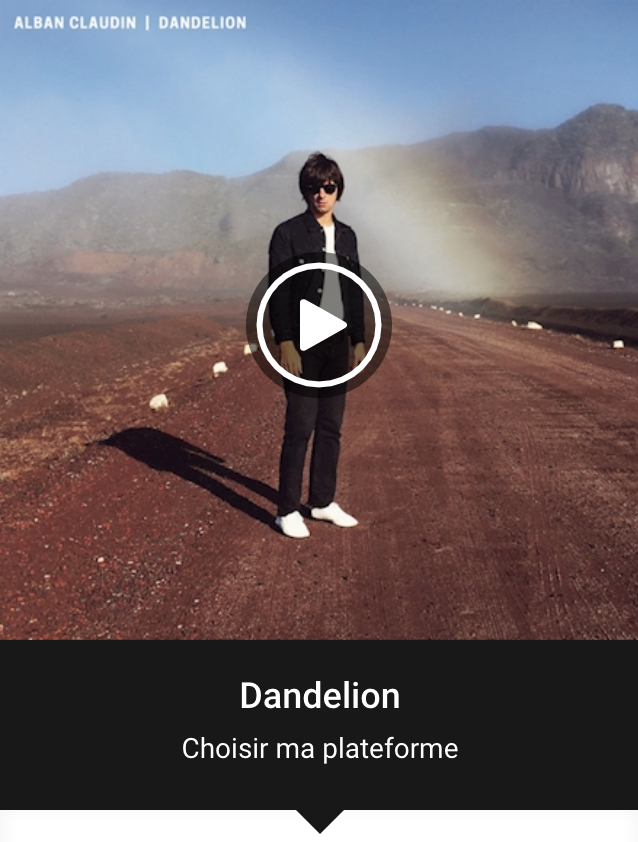 Biographie
Six mois après la parution de son premier album It's a Long Way to Happiness , Alban Claudin retrouve le chemin des studios pour enregistrer une série de nouveaux titres à paraître dans les prochains mois. Le premier, un arrangement du Clair de lune de Debussy, sort le 15 Octobre (clip video le 29 Octobre).
L'idée de reprendre cette pièce, qui est peut-être la plus populaire de Claude Debussy, m'est apparue comme une évidence : je l'ai apprise quand j'étais enfant et elle m'a toujours suivie depuis. Je me souviens de comment mes larmes ont coulé instantanément lors de la scène finale du film « La Rafle » quand Le clair de lune apparaît.
Je ne voulais pas me contenter d'une énième reprise, d'autant que Le clair de lune a été enregistrée d'innombrables fois et très souvent à la perfection. Je souhaitais y apporter quelque chose de nouveau, d'innovant, mais sans dénaturer l'œuvre et dans le respect de la partition. Au final, le travail a été la recherche d'une palette sonore contemporaine pour créer une ambiance en résonnance avec l'atmosphère originale de la composition et je l'espère, en adéquation avec les émotions qu'a voulu transmettre Debussy.
A 30 ans, Alban Claudin cultive un look vintage d'enfant sage, coupe à la Oasis et regard, sous la frange, qui en dit long sur la malice du garçon. A l'aise partout, il s'amuse de la facilité avec laquelle il se prête au jeu des promos, des concerts et des showcases privés… Il est le plus ancien de la bande des chics types qui accompagnent Clara Luciani sur scène et s'il adore les tournées, quand l'équipe remballe, il regagne le vert paradis de Sens où il s'est aménagé un studio afin de pouvoir composer au calme et se ressourcer dans la campagne environnante.
Signé par Taktic Music en 2014, Alban commence par composer des musiques de courts-métrages et de documentaires (dont « Yoga, un souffle de liberté » récompensé dans plusieurs festivals internationaux) tout en collaborant avec de nombreuses marques de prestige (Louis Vuitton, Van Cleef & Arpels, Chanel…) avant de se concentrer à l'écriture de son premier album. Qui sera enregistré au cours de l'année 2019 après un patient travail de recherche sur le son car il souhaite que la production singularise sa musique : "Même s'il n'a que 300 ans, le piano a été exploité sous toutes les formes possibles et il est très difficile de réinventer cet instrument, d'en faire quelque chose qui n'ait pas été fait"explique Alban, grand admirateur de Ravel et Bartók, diplômé du Conservatoire et fin connaisseur des claviers électroniques.
Sorti en mars 2021, It's a Long Way to Happiness est salué par de nombreux medias ("bouleversant"», "somptueux", "lumineux", "aérien", "hors du temps"…), dépasse les 6 millions de streams en tout juste six mois et établit le profil d'un artiste à la personnalité aussi unique que singulière, confirmée par les clips video du réalisateur Maxime Charden qui accompagnent chaque single extrait de l'album.
Signé par Junzi Arts pour le live, Alban Claudin fait preuve d'une grande aisance scénique et ses premiers concerts font l'unanimité. En 2021, il se produit à Paris, Bruxelles (Botanique), Londres (London Jazz Festival) ainsi qu'en première partie de Chassol et Woodkid pendant que des dates se mettent en place pour 2022 (France, Angleterre, Espagne, Suisse…).
En studio, il fonctionne aux coups de cœur et aux rencontres artistiques : Voyou, Adrien Gallo (claviers sur l'album « Là où les saules ne pleurent pas »), Yelle (remix de « Je t'aime encore »), Clara Luciani (réalisation de sa reprise de « Sous le soleil exactement »).
Il a également composé un titre pour le premier album de la violoniste française Esther Abrami, titre qu'ils ont enregistré en duo pour Sony Classical (single le 3 décembre 2021, album en février 2022).
Tout en reprenant la route avec Clara Luciani – et pour quelques concerts exceptionnels, avec Mika – Alban compose la musique originale du premier long-métrage de Guillaume Gouix « Amore Mio » (avec Elodie Bouchez et Alyson Paradis) dont la sortie est prévue à l'Automne 2022.
Biography
Six months after the release of his first album It's a Long Way to Happiness, Alban Claudin is back in the studio to record a series of new tracks. The first one is a cheerful arrangement of Debussy's Clair de lune and will be released on October 15, followed by a video on October 29.
The idea of revisiting this piece, which is perhaps the most popular of Claude Debussy's works, was self evident: I learned it as a child and it has always followed me ever since. I still remember how my tears suddenly flowed when "Le clair de lune" comes in during the final scene of the French movie "La Rafle".
I didn't want to settle for yet another cover version, especially since "Le clair de lune" has been recorded countless times and very often perfectly. I wanted to bring something new, innovative, but respectful of the score. In the end, it has been a challenging search for a contemporary soundscape in resonance with the original atmosphere of the composition and, I hope, in adequacy with the emotions that Debussy wanted to transmit.
At 30, Alban Claudin carries a vintage look with a wise touch, an Oasis-style haircut that half-hides an expression which speaks volumes about the boy's roguishness. He smiles in self-amusement at the ease at which he springs from recording sessions to promo to concerts. But when the show is over he returns to the green paradise of Sens where he has set up a small studio to compose peacefully while enjoying the Burgundy countryside.
Signed by Taktic Music in 2014, Alban started writing for short films and documentaries (including "Yoga, a breath of freedom" awarded in several international festivals) while collaborating with many prestigious brands (Louis Vuitton, Van Cleef & Arpels, Chanel …) before focusing on composing piano pieces for his first solo album that was recorded during the summer of 2019 in Paris after a patient work of studio experiments: "I wanted the production to singularize my music. Even if it is only 300 years old, the piano has been exploited in all possible forms and it is very difficult to reinvent this instrument, to make something that has not been done" explains Alban, a great admirer of Ravel and Bartók, graduate of the Conservatory of music and a fine connoisseur of electronic keyboards.
Released in March 2021, It's a Long Way to Happiness has been unanimously praised by the media ("radiant", "sumptuous"," luminous", "soft and airy", "timeless"…), exceeded 6 million streams in just six months and established the profile of an artist with a personality as unique as it is singular, confirmed by the video clips of director Maxime Charden that accompany each single from the album.
As per live performances, Alban played his first solo shows in 2021 in Paris, Brussels (Le Botanique) and London (The London Jazz Festival) as well has opening for Chassol and Woodkid while more dates are set up by his touring company (Junzi Arts) for 2022 in France, England, Switzerland, Spain.
His rare studio collaborations are the result of human and artistic encounters: keyboards sessions for French singers songwriters Voyou and Adrian Gallo, remix for Yelle's "Je t'aime encore" or production for Clara Luciani's cover of "Sous le soleil exactement" (written by Serge Gainsbourg for Ana Karina).
He recently composed a piece for the first album of the French violinist Esther Abrami that they recorded as a duet for Sony Classical (single on December 3, 2021, album in February 2022).
While going back on the road with Clara Luciani – and for a few exceptional concerts, with Mika – Alban is composing the original soundtrack for French director Guillaume Gouix's first feature film "Amore Mio" (with Elodie Bouchez and Alyson Paradis) which will be presented at the Cannes Film Festival and in theaters in the fall of 2022.
With the releases of several new singles, tours and solo concerts the coming months promise to be particularly busy for Alban. Not to mention that the man may have some more surprises in store for us…
Dans les média
Un compositeur passionnant, qui publie un premier album instrumental juste bouleversant.
Paris-Match
Doux, aérien (…) un disque sans voix mais pas silencieux (…) qu'Alban Claudin a écrit comme la B.O. tempérée de notre époque avec une évidence mélodie.
France Inter 
Bouleversant… Coup de coeur
Basique 
Un univers mélancolique et méditatif, nourri de rêveries enivrantes… Lumineux…
Le Figaro.fr
Mélodies particulièrement belles et contrastes saisissants.
RFI Musique 
Si tu veux que le temps s'arrête sur un air de piano, on te conseille de l'écouter.
Fraiches
Un témoignage magnifique à la croisée du classique et de la pop et c'est tout simplement somptueux. 
La Face B 
Un premier album majestueux de profondeur et de légèreté.
Fnac.com
Il soutient le regard de la référence du genre, le Solo Piano de Gonzales (2004), rappelle parfois le meilleur de Yann Tiersen et signe l'acte de naissance d'un grand artiste à la personnalité irradiante.
Magic
Les émotions développées par chaque morceau sont si profondes qu'elles sonnent juste, peu importe le moment que l'on est en train de vivre.
Général Pop
Attaques courtes, arpèges qui coulent de source et échos mystérieux, Alban Claudin est un compositeur doué.
Juno Records
In the media
A fascinating composer, a first instrumental album that is just overwhelming.
Paris Match
Soft and airy… an album with no voice but definitely not silent… that Alban Claudin composed as the soundtrack of our time with a melodic evidence
France Inter
Overwhelming!
Basique 
A melancholic and meditative universe, nourished by intoxicating reveries … Radiant …Le Figaro.fr
Magnificent melodies and striking contrasts  
RFI Musique 
If you want time to stand still on a piano tune, we advise you to listen to it.
Fraiches  
A magnificent testimony at the crossroads of classical music and pop… it is simply superb.
La Face B 
He supports the gaze of the benchmark of the genre, Gonzales's Solo Piano (2004), sometimes recalls the best of Yann Tiersen and signs the birth certificate of a great artist with a radiant personality.
Magic  
The emotions developed by each composition run so deep that they are appropriate for whatever moment in life we may be going through.
General Pop
Short strikes, effortless arpeggios and mysterious echoes, Alban Claudin is a gifted composer.
Juno Records
Le Clair de Lune
Réalisation & montage : Maxime Charden
2904
Réalisation : Maxime Charden
One Thousand Trees
Réalisation : Maxime Charden
It's A Long Way To Happiness
It's a Long Way to Happiness (Making Of)