DUBPHONIC LIVE RELIGHT TOUR 2010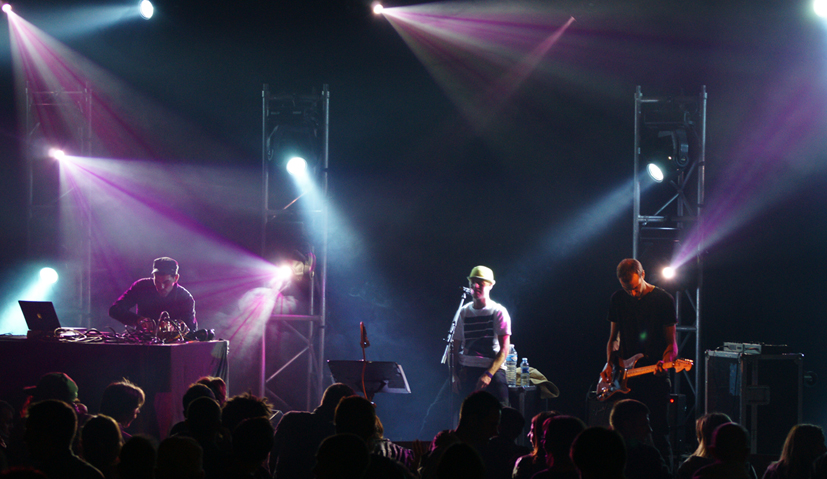 programming & treatments Ben Mosca : vocals Black Sifichi : guitars & keyboards Stefane Goldman

> relight
1. The Only Girl On Earth - featuring Liset Alea
2. Nora Sun
3. All You Weed Is Love
4. Afronauta - featuring Céu
5. Ricky Balboa - featuring Mau
6. Friday
7. Parachute
8. Trick Of Time - featuring Daniella D'Ambrosio
9. Last Resort Hotel
10. Outland


www.hammerbass.fr

contact scène : jb@igloo.org
+ 33 (0)2 41 80 08 43
+ 33 (0)7 86 72 69 54




Released November 2009cd/digipack & Digital
Taktic Music/Hammerbass/Module


Stéfane Goldman : guitars & fx
Ben Mosca : programming & mice
Alexis Mauri : Programming, knobs & faders
With
Liset Alea : vocals in The Only Girl On Earth
Daniella D'Ambrosio : vocals in Trick Of Time
Céu : vocals in Afronauta
Mau : vocals in Ricky Balboa
Olivier Mateu : electric piano in Afronauta
Jérémie Poirier-Quinot : flute in Last Resort Hotel
Jean-Philippe Rykiel : electric piano in Afronauta (chorus)
Prince Zober : percussions in Parachute and Outland
Seep : Synths in Friday
Céu courtesy of Urban Jungle Records
Album arranged and produced by Dubphonic
Recorded & mixed at Taklab Studio (Paris)
Engineered by Alexis Mauri
Mastered by CGB at Dubplate & Mastering (Berlin)
artwork : David Normant


All compositions by Dubphonic published by Taktic Music
Except
The Only Girl On Earth by Liset Alea & Dubphonic
Published by Whisper Music Dynasty & Taktic Music
Afronauta by CéU & Dubphonic
Published by UJ Music Publishing & Taktic Music
Ricky Balboa by Michael Giffts, Christopher Padrick & Dubphonic
Published by Taktic Music
Trick Of Time by Daniella D'Ambrosio, Jean-Michel Reusser & Dubphonic
Published by Taktic Music
Friday & Last Resort Hotel by Christopher Padrick & Dubphonic
Published by Taktic Music
> smoke signals
Class 84
Burn baby Burn !
War No More
Galactic Sushi Man extrait | excerpt
Orozco (Dubphonic remix)
Vegetal Combustion
Djibouti Love Affair
Babylon Insight
Homegrown
released 2003 cd/digipack
Taktic Music/Hammerbass/Nocturne
Performed & arranged by Dubphonic
Produced by Alexkid
artwork : arnaud gauthier & aboubabrar @ hotspot
All instruments by Dubphonic except :
laurent "leeroy" magloire : bass guitar in Class 84 & Babylon Insight
spirit : keyboards in Homegrown
christian lechevretel : trumpet in Djibouti Love Affair
michel sanchez : bass guitar in War No More

all compositions by dubphonic published by Taktic Music except "Babylon Insight " by laurent "leeroy" magloire & dubphonic & "Djibouti Love Affair" by christian lechevretel & dubphonic published by Taktci Music, "Orozco" by Richard Dorfmesiter & Rupert Huber published by G-Stone.



DUBPHONIC 2003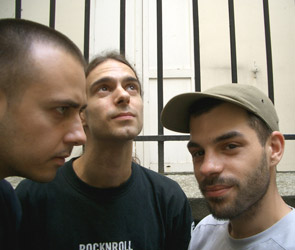 guitars, bass guitars, programming & keyboards
Alexis Mauri, Stefane Goldman, Sylvain "Ben" Moska
> "Select Cuts From Blood & Fire Chapter Two" . Ce second volume disponible en CD et double-vynil voit 15 titres du catalogue Blood & Fire (Glen Brown & King Tubby, I-Roy, Scientist, Horace Andy etc…) remixés et/ou reconstruits par autant de musiciens ou groupes européens tels Apollo 440, Leftfield, Jah Wobble, Black Star Liner etc… La France est à l'honneur avec des remixes de Kid Loco, Seven Dub et… Dubphonic (pour "Jah Jah Is A Guiding Star" de Linval Thompson).

Echo Beach -2001


Pour plus d'information sur le projet :
www.dub-style.de
Et sur le label Blood & Fire :
www.bloodandfire.co.uk


L'album est disponible sur www.amazon.de

extrait | excerpt
---
> class 84
Class 84
Babylon Insight
War No More

extrait | excerpt


Released 2000
Subtitled/Guidance Recordings
Produced by Dubphonic
Guests :
Laurent Magloire (bass)
Michel Sanchez (bass)

All compositions by Dubphonic except Babylon Insight by Dubphonic & Laurent Magloire.
Published by Taktic Music.

Premier maxi – 12' vinyl (Class 84/Babylon Insight/War No More) sorti fin Mars 00 sur Guidance Recordings/Subtitled.
Version edit de Babylon Insight parue sur Hi-Fidelity Dub Sessions/The Second Chapter (Guidance Recordings).
Premier concert en Avril 2000 au Batofar (Paris)
Premier remix "Ozroco" de Tosca à la demande de Richard Dorfmeister pour l'album Suzuki In Dub sorti en octobre 2000 sur G-Stone. Pour plus d'information : www.g-stoned.com.

Deuxième remix "Jah Jah Is A Guiding Star"

extrait | excerpt de Linval Thompson pour une compilation parue chez Echo Beach en Juin 2001.

Premier album "Smoke Signals" Taktic Music/Hammerbass/Nocturne octobre 2003.

Original Guidance Biography

Dubphonic are Paris based trio Stefane Goldman, Sylvain Mosca and Alexi Mauri (aka F Comm Recording artist AlexKid and one'half of Guidance's very own Common Nature). They are foot soldiers in Jah's Army and their musical mission is to restore and deliver the timeless Jamaican artform known as dub safely into the 21st Century. Once their mission is accomplished they are under strict orders from his Imperial Majesty Haile Selaisse to fly away home to Zion and join messieurs Garvey, Marley, Tosh, Pablo and Tubby in that big dub lab in the sky ! Repatriation is a must mi breden so in the meantime I suggest you kick back relax, load up the chillum, and soak in these nu-zionistic grooves.

The journey begins with 'Class 84' an epic extra terrestrial sci fi dub encounter that sounds like the sort of thing Osbourne Ruddock and Basic Channel would come up with if Giorgio Moroder asked them to do a dub version of the theme from Midnight Express. Some choice Police style echo heavy guitar sounds lead the way followed by a deep mumbling bassline and layer after layer of dubbed out aptrnosphere which will have you feeling all sorts of irations, meditations and shamanistic revelations, 'Babylon Insight' (Bl) is an authentic slow motion riddim ride which brings to mind the classic works from the Roots Radics band, Flabba Holt, Style Scott and crew. All the ingredients for making a proper ital stew are here, 24 spacious channels of slow steady hypnotic bass, changa changa guitar riffs, and plenty of spliffed out mixing deck effects. The dubphonics take it down with 'War No More" (B2) a heavyweight megaton dub version excursion which swallows the listener up in a sea of echo, reverb and delay. Yes I ! Its true what dem say, ' The sound's sweeter through the echo chamber', stay tuned for the next chapter.