News
Alexkid – I Think (live at Factory) – Sortie le 23/10
Enregistrée live à Paris lors de l'édition 2004 du Festival Factory, cette version inédite de « I Think » (titre phare du premier EP d'Alexkid puis remixé avec Richard Dorfmeister sur l'album « Bienvenida ») est enfin disponible sur toutes les plates formes digitales.
Entre les glissandi de pedal steel guitar de B.J. Cole (Björk , Depeche Mode, Brian Eno, The Verve…) et les envolées lyriques du trompettiste sarde Paolo Fresu, cette relecture de la version de « Bienvenida » rythmée par les séquences, et percussions électroniques d'Alexkid est un mix inédit d'ambient music et de sensualité lumineuse.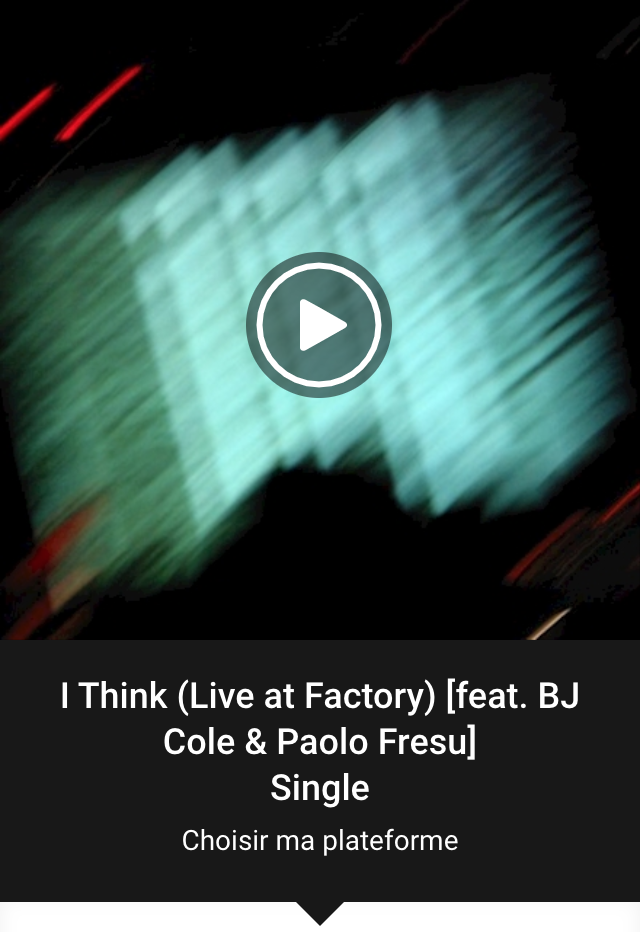 Bio | Français
Alexis Mauri dit Alexkid est musicien multi-instrumentiste, compositeur, re-mixeur et ingénieur du son. Très vite, sa réputation d'artiste/producteur et sa connaissance des dance-floors lui vaut d'être sollicité comme DJ, ses sets faisant le bonheur des amateurs de Musique Électronique.
Une des premières signatures du prestigieux label F-Communications (fondé par Laurent Garnier et Eric Morand), Alexkid publie une série de 4Eps (le premier en 1996) et enchaîne avec trois albums (Bienvenida 2001, Mint 2003, Caracol 2007). Tous très positivement accueillis par la presse française et étrangère. Pour ces projets, il fait appel aux vocalistes Hanifah Walidah (Brooklyn Funk Essential), Ursula Rucker, Ian James Whitelaw et Liset Alea avec laquelle il écrit, entre autres « Come With Me » qui deviendra un hit dans les clubs un peu partout dans le monde et un favori des music supervisors américains. Il s'assure également des collaborations d'instrumentistes de haut niveau comme le trompettiste américain Jon Hassell, le pianiste Jean-Philippe Rykiel, ou le producteur Richard Dorfmeister (Kruder&Dorfmeister)
Parallèlement à son projet solo, Alexkid a fondé – avec le guitariste Stéfane Goldman et le programmeur Ben Mosca- le groupe de dub électronique Dubphonic dont il co-réalise les albums « Smoke Signals » (2003) et « Relight » (2009).
Remixeur , il a – entre autres – travaillé avec Hector Zazou ("The Long Voyage" avec John Cale et Suzanne Vega), Muriel Moreno, Nova Nova, Brooklyn Funk Essentials, Llorca, Fertile Ground, RobertMiles, George Michael et, via Dubphonic, Richard Dorfmeister (Suzuki In Dub/G-Stone). Compositeur il a collaboré avec Hector Zazou (Coupe du Monde 98), Ursula Rucker (album "Supa Sista"/StudioK7) ou le saxophoniste Jérôme Badini.
Installé à Berlin depuis 2008 Alexid a fondé le label Wu-Dubs ainsi qu'une agence de booking et de management d'artistes électroniques.
Bio | English
With 20-something years in the game, the former Parisian turned Berliner is lauded by peers and fans alike for his production technique, and infamous on the circuit for his extensive collection of – and near-obsessive relationship with – machines. Growing up in Pigalle, most kids his age were playing football as Alex spent his days examining the synth shops in his neighbourhood, twiddling away on every dial button he could get his hands on, buying and selling gear.
A DJ/producer, multi-instrumentalist and sound engineer, Alexkid is credited as an early protagonist of 90s Parisian underground culture. Ignited by no less than three critically acclaimed albums on Laurent Garnier's F Communications, and cemented by his Rex Club residency of four years, having been invited to the very same club where he has been clubbing for the past 25 years.
This, matched with selected releases and remixes on labels including Rekids, Desolat, Cadenza, Cabin Fever, Freerange and Supplement facts have solidified Alexkid's reputation in every corner of the world. Stripped back, dubby and a sometimes borderline obscure, Alex constructs atmospheric narratives – maneouvering just as easily through a live set-up as a vinyl session.
A self-professed perfectionist always in the search of the perfect beat, he applies stylistical values from jazz when concurring that 'things can sound wrong, and yet sound great.'
2014 adds another chapter to Alexkid's repertoire, with the inception of his new vinyl-only label Wu- Dubs. Presenting an expressive platform for his own music, as well as music of his friends, the focus lies on unearthing timeless pieces of music. Coupled with a series of label showcases at the Rex aptly titled 'Deja-Wu', whilst building the backbone of his own new artist platform, and with releases on Jus- Ed's Underground Quality, Fuse and Ovum on the way, Alex is paving a new path for himself.